By David Boyle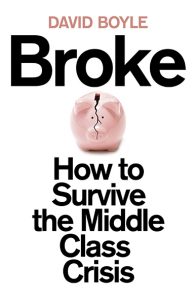 Published by Fourth Estate, January 2014, with brand new chapter …
A comfortable home. Good school, private healthcare. A couple of holidays a year. The aspirations of the middle class have always been modest, realistic and, of course, affordable.  Generations of prime ministers have been on their side.
So why do they now find themselves priced out of the suburbs they grew up in, their children competing for places schools which might place them in the shrinking elite? Why are banking salaries making a mockery of their professions, their pensions shrinking – today's middle classes will struggle to enjoy the same standard of living as their grandparents' generation – and what will become of their children?
And, above all, who got them into this mess?
"If you're middle-class, there is endless interesting stuff in this book for you.  Boyle has written well on many subjects, including maths, money, and the concept of authenticity.  Here he explains what he calls the 'middle-class crisis' — and he's spot on.
William Leith, Evening Standard
"[A] paradoxically exhilarating book."
Roger Lewis, Daily Mail
"The tone of the book may be gloomy, but there is plenty of entertainment value…"
Anne Ashworth, The Times
"Boyle's bourgeois call to arms … has a pace and passion that elude most chroniclers of economic change."
Dominic Lawson, Sunday Times
"He tells these stories, on the whole persuasively and with some startling asides.'
Bryan Appleyard, New Statesman